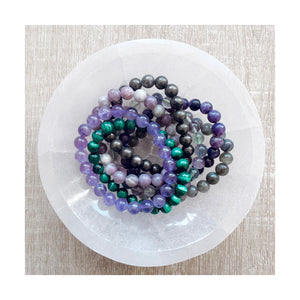 Selenite
---
Selenite evokes protection from the angelic realm, helping to dispel all negative energy from the body and mind.
Cleanses and purifies its environment.
Clears negative energy.
Cleanses and charges other crystals.
Self-cleansing.
Its calming properties makes it ideal for meditation and spiritual work.
Enhances team spirit in groups and organisations.
Perfect crystal for gridding the home or property.
Please Note: You will receive one similar to the image online, selenite is a natural stone and will vary slightly in shape and may include imperfections.